Wildwood Park Moderate Hike – Lizard Rock, Paradise Falls, Indian Creek Loop
Moderate 4½ mile round trip, with a total elevation gain/loss of about 700 ft. First to Lizard Rock by way of Mesa Trail and Stagecoach Bluff Trail, then down (past the water treatment plant) to the stream. Not far upstream is the waterfall. Steps lead down to the pool beneath Paradise Falls, and to a picnic table in the shade of an oak tree. Continuing upstream, there is the tranquil picnic area at Little Falls – another great place to take a break. Return by way of Indian Creek Trail.
How to get there: Drive to the west end of Avenida de Los Arboles. Park in the lot at Arboles & Big Sky.
Map of This Hike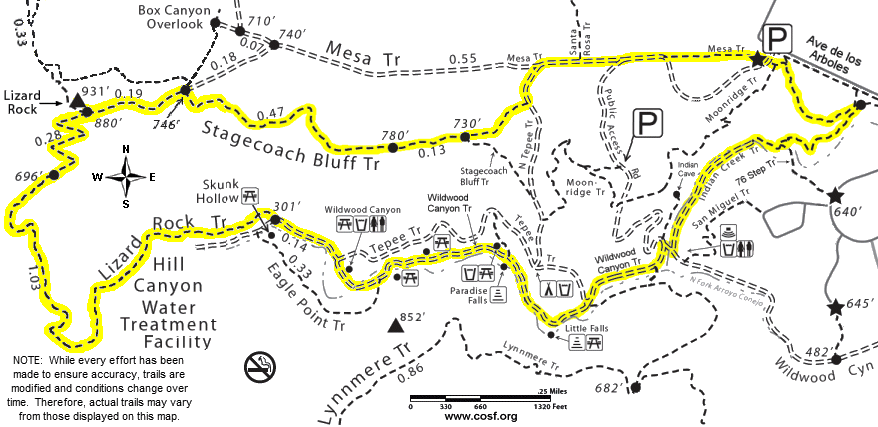 Detailed Hike Description and Photos
| | | |
| --- | --- | --- |
| | | Use the dirt parking lot at Avenida de los Arboles and Big Sky Drive. |
| | | Begin by heading west on Mesa Trail. |
| | | After a very short and mild incline, the Wildwood Mesa comes into view. The volcanic rock outcropping straight ahead is Lizard Rock. In certain lighting conditions, and with a good imagination, the rocky point can look like a lizard perched atop the hill. |
| | | Continuing on the road and through the gate . . . |
| | | . . . where the road splits, instead of following the sign that points straight ahead toward Lizard Rock, a slight diversion to the left will lead to Stagecoach Bluff Trail and a great overview of Wildwood Park. |
| | | The turnoff for Stagecoach Bluff Trail is marked by a sign on the right. The trail is a bit rocky in places, but not difficult. |
| | | After just a little elevation gain, Wildwood Canyon comes into view, with Newbury Park in the distance. |
| | | From over a patch of prickly-pear cactus, looking back toward the south-east is the tepee (shade structure), and the creek running through the canyon below. |
| | | To the north-east is Wildwood Mesa and Mount Clef Ridge. |
| | | And, to the north-west, the trail leading on toward Lizard Rock. |
| | | Just before reaching Lizard Rock, there is a short, fairly steep and rocky section of trail, but the views from the top can make it worth the effort. |
| | | From Lizard Rock, as well as views of Newbury Park and Thousand Oaks, you can see down into the Santa Rosa Valley. This is looking toward the north-west at an agricultural area. |
| | | A residential area of Santa Rosa Valley is visible to the north-east. |
| | | To the east is Wildwood Mesa, with Mesa Trail and Mount Clef Ridge to the left, and Stagecoach Bluff and Wildwood Canyon to the right. Lizard Rock is a popular destination for "full moon hikes" (offered regularly by Conejo Recreation and Park District and Sierra Club groups among others). It is a wonderful location for watching the full moon rise. |
| | | Heading back down the hill, the well maintained switchback trail to the south leads toward Hill Canyon and the water treatment plant at the west end of Wildwood Canyon. |
| | | The bench part way down is perfect for pausing to enjoy the view of Hill Canyon below. The soil condition on the trail is such that you can often find animal tracks such as deer, coyote, snake, and quail. Also, overhead, there are frequently turkey vultures and/or hawks. |
| | | The Hill Canyon Wastewater Treatment Plant near the bottom of the trail is a reminder that Wildwood Park is actually surrounded by urban development. Waste water from Thousand Oaks is processed at this plant, then released for agricultural use. |
| | | Continuing upstream, signs of the nearby urban development are again left behind. As the trail follows the creek, there are several water crossings, mostly on small wooden pallet foot bridges. One or two crossings may require stepping from rock to rock. It is not difficult, but after heavy rains, those "rock crossings" could result in wet feet. |
| | | A little farther upstream, at the campground, there are numerous picnic tables as well as a drinking fountain and restrooms with flush-toilets. |
| | | And, not far from the campground is yet another picnic table. This one is just above the base of Paradise Falls. |
| | | Paradise Falls was formed by stream erosion. Above is hard volcanic rock, and below is clay shale. The stream is naturally fed by several springs in the park, but the springs are not sufficient to keep the water flowing year-round. Currently, the primary water source is street runoff from Conejo Valley gutters and storm drains. Although the waterfall is a beautiful sight, playing in the water is definitely not advised. |
| | | Leaving Paradise Falls, take the path that follows the creek upstream. |
| | | Not far up the road is another great location for a break. It is "Little Falls Picnic Area". There are several picnic tables under the shade of numerous old oaks. |
| | | While at the picnic area, enjoy the pleasant sound of the nearby stream. |
| | | Continue walking on the road until you reach a junction with a sign pointing to the "nature center" and "Wildwood Fort". Turn right and cross the wooden bridge, then left at the sign pointing to Indian Creek Trail. |
| | | Along Indian Creek Trail, turtles can often be seen on the stream banks below. Also look and listen for the many birds, including ducks and other water foul. Watch for frogs, squirrels and rabbits too. |
| | | The large rocks in the creek make this last water crossing easy. |
| | | As you begin your ascent, listen and watch for Indian Creek Falls below. |
| | | The very lush section of trail covered with wooden planks is one of the natural springs in the park. |
| | | Back to civilization! At the trail intersection, turn left, walk past the sign, then take the left fork. |
| | | Follow the trail as it curves around and under the beautiful oak trees, then look for the steps back up to the parking lot. |