Community Outreach

Open Space Community Outreach is periodically staged at local trailheads or community events such as Arbor/Earth Day, with a goal of informing and educating the public about COSCA and open space in the Conejo Valley. Community Outreach volunteers may offer trail maps, or information about COSCA's extensive trail system, open space rules and guidelines, schedules of open space outings, and volunteer opportunities.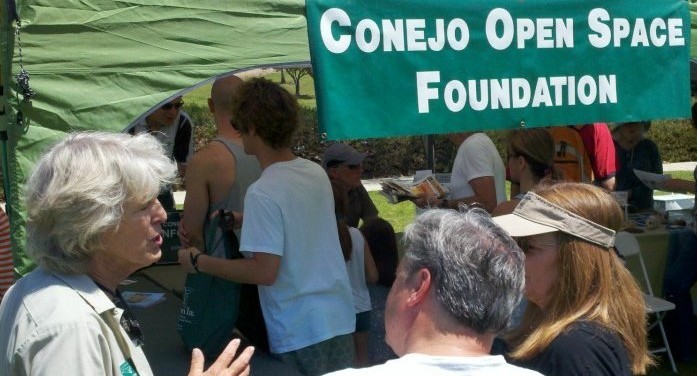 Community Outreach Coordinator: Jerry Westby

Volunteer Activities
Open Space Community Outreach volunteers greet the public and provide published information about trails and open space. Volunteers may only distribute literature published by COSCA, the Conejo Recreation and Park District, the City of Thousand Oaks, the Conejo Open Space Foundation, or the Conejo Open Space Trails Action Committee (COSTAC), unless permission is obtained in advance from COSCA and COSTAC.
Community Outreach volunteers do not act as COSCA officers, employees, or agents.
General Organization and Operation
The Open Space Community Outreach Coordinator (Coordinator), who is a member of the Conejo Open Space Trails Action Committee (COSTAC) or an active open space volunteer, coordinates all Community Outreach activities including scheduling volunteers for Community Outreach events, following up with volunteers prior to each event to verify the schedule, and arranging for the transport of equipment and supplies to and from each event. The Coordinator works in cooperation with COSCA, COSTAC, and the Conejo Open Space Foundation (COSF) to schedule Community Outreach events on an as-needed basis.
Volunteer Requirements
Community Outreach volunteers must be at least 18 years of age unless accompanied by a parent or guardian and must sign a COSCA Volunteer Agreement, Waiver and Release form.
Community Outreach volunteers should be open space enthusiasts with extensive experience with COSCA's open space and trail system.
Volunteer Orientation and Training
Community Outreach volunteers should participate in a minimum of three outreach events under the supervision of an experienced Outreach volunteer before they are allowed to perform Community Outreach independently.
Equipment Needs
The Coordinator manages and coordinates all necessary equipment and materials for Community Outreach events, including a table, two chairs, a pop-up shade structure, trail maps, and other printed material about COSCA's open space and trail system. COSCA, COSF, or CRPD will provide these items for replenishment when necessary. The Coordinator should ensure that these materials and equipment are replenished as needed.