Trails Education Days Writing Contest Winners

The students who participate in Trails Education Days are invited to enter a letter-writing contest to describe some of the things they learned during their Trails Education Days experience. Two winners from each school and five Grand Prize winners district-wide are chosen to receive cash awards as well as recognition by the Thousand Oaks City Council and the CRPD Board of Directors.
Here are the winners of the Writing Contest.
2018 Grand Prize Winners - view the winners' list and grand prize essays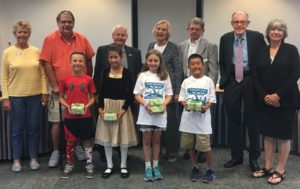 The CRPD Board honors 2018 Trails Education Days Writing Contest winners Myles Young (Sycamore Canyon Elementary School), Sylvie Rousseau (Banyan Elementary School), Kelsey Jo Sullivan (Weathersfield Elementary School), and Derek Lai (Westlake Hills Elementary School). Trenton Brooks (Cypress Elementary School) was not able to attend.
Directors Joe Gibson, George Lange, Susan Holt, Chuck Huffer, Ed Jones with Melanie Ashen and Elayne Haggan are in the back row.
2017 Grand Prize Winners
Elle Hock, Banyan Elementary School
Chloe Douence, Lang Ranch Elementary School
Justin Sinderbrand, Lang Ranch Elementary School
Will Simic, Westlake Elementary School
Sarah Targum, Westlake Hills Elementary School
2016 Grand Prize Winners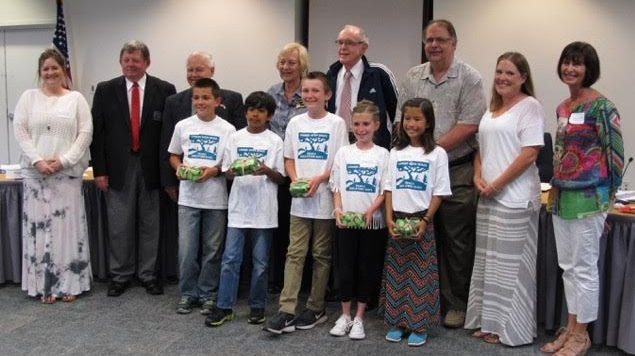 Winners left to right, with teachers and CRPD Board:
Calvin Kissell, Westlake Elementary & teacher Christie McCarthy (left); CRPD Board Chair Chuck Huffer, Vice Chair George Lange, Directors Susan Hold, Ed Jones & Joe Gibson; Jai Garg Westlake Hills Elementary, Jai's teacher, Pamela Dumler, was unable to attend; Amelia Furman & Maegan Farrell, Wildwood Elementary & their teacher Tracy Morehead (right); Elias Chin, Acacia Elementary & teacher Joyce Wheatly (far right).
2015 Grand Prize Winners
Corey Witt, Lang Ranch Elementary
Max Wagner, Westlake Hills Elementary
Eric Berger, Westlake Hills Elementary
Sammy Edwards, Westlake Hills Elementary
Tarani Udayakumar, Wildwood Elementary
2014 Grand Prize Winners
Jessica Caterson, Lang Ranch Elementary
Brooke Holloway, Lang Ranch Elementary
Kapono Dacascos, Westlake Hills Elementary
Noah Lunn, Westlake Hills Elementary
Brittney Nial, Westlake Hills Elementary
2013 Grand Prize Winners
Matt Cahalan, Lang Ranch Elementary School
Connor Allen, Walnut Elementary School
Olivia Pace, Walnut Elementary School
Dominic Malialy, Weathersfield Elementary School
Rebecca Schultz, Westlake Hills Elementary School



2012 Grand Prize Winners
Olivia Simon of Glenwood Elementary School
Caelyn Pender of Lang Ranch Elementary School
Hanna Chernavsky of Madroña Elementary School
Gabrielle Nardecchia of Westlake Hills Elementary School
Rocco Basile of Lang Ranch Elementary School