Help support your local open space

Helping to Preserve, Promote, and Protect Our Open Space
The Conejo Open Space Foundation (COSF) is a 501(c)(3) nonprofit corporation formed in 1995 to promote, support and help maintain the open space and trail system of the Conejo Valley, and to educate visitors as to their roles as custodians and protectors of the open space and the environment. We support and help fund ongoing programs sponsored by the Conejo Open Space Conservation Agency (COSCA). We are funded through individual, business, and corporate memberships, donations and grants. Funds received by COSF are highly leveraged through the extensive use of unpaid community volunteers and other in-kind donations.
Latest Updates (View all the updates.)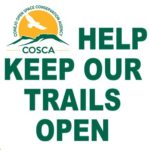 Help Keep Our Trails Open!
(3/24/2020)
-
A message from the Conejo Open Space Conservation Agency: Make everyone's safety a priority 1. Think First of staying home and avoiding others. We are in a health emergency rather than a holiday, and this is about saving lives. 2.… (read more...)
Get COSF news on your mobile device!
(2/9/2020)
-
We post the most significant recent news to our home page, but it's even easier to keep up with all COSF news without having to visit our website. Using an app on your phone or tablet, our news will be… (read more...)
Educate We volunteer to protect and preserve our precious open
space. One great way to do this is by educating the youth of our community. Interested in working with Conejo Valley fourth graders? Join us at our next Trails Education Days.

Fund Raise The Conejo Open Space Foundation raises funds for many outdoor projects, such as the bridge crossing in Hill Canyon, Bike Bells, and Trails Education Days. Support our efforts by becoming a member or making a donation at our Membership page.

Volunteer The Conejo open space wouldn't be the same without the hundreds of people who give their time and energy. The COSCA volunteer corps offers many ways to stay involved in the open space. Join us and make a difference today!