Los Robles Moderate Hike – Triunfo Park, Los Robles Trail, White Horse Cyn Loop
Moderate five and a half mile round trip, with a total elevation gain/loss of about 1100 ft. Great switch-back trail from Triunfo Park up to Los Robles trail. Loop around (counterclockwise) by way of White Horse Canyon Trail, across the ridge, and back down Triunfo Trail.
How to get there: From the 101 freeway, take Hampshire Rd. south to Triunfo. Turn right on Triunfo, then right on Tamarack, and proceed to the second parking lot. The trail head is near the west end of the parking lot.
Map of This Hike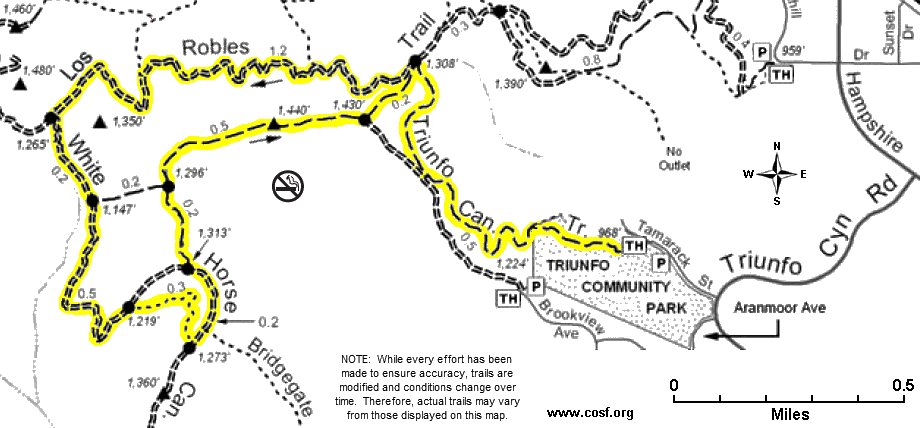 | | | |
| --- | --- | --- |
| | | The trailhead is at the northwest corner of Triunfo Park. |
| | | Of all the great trails in the Conejo Open Space, this, the Triunfo Canyon Trail leading up to Los Robles Trail, is among the nicest. |
| | | Triunfo Canyon Trail is wide, well maintained, drains well after rains, offers nice views of the Westlake area below, has loads of wildflowers in the springtime, and the angle of ascent is not strenuous. |
| | | Upon reaching Los Robles Trail, a large portion of the Conejo Valley comes into view. |
| | | Los Robles Trail is a fire/utility road at this point. It is popular with hikers, bikers and equestrians. Walking toward the west, there are hills and open space to the left, and the city of Thousand Oaks is below to the right. |
| | | About 2 1/2 miles into the hike, White Horse Canyon Trail intersects from the left. It leads south into the canyon, then loops around to the ridge. There is a sign at this junction, pointing to White Horse Canyon Trail. |
| | | On the trails ahead, there are several brief stretches with some loose gravel and rocks. This first one has poor footing because the gravel and rocks are on a fairly steep downhill section. Go slowly and carefully – it doesn't last long. |
| | | Soon the trail becomes very pleasant, as it meanders through a diverse plant community. In this area, except for a few power lines, there are no signs of the nearby urban development. |
| | | After circling around and up to the ridge, pause at a high point for some great views of the surrounding area. |
| | | There is seemingly endless open space to the west. |
| | | Thousand Oaks and Newbury Park are seen to the northwest. |
| | | The 23 freeway snakes to the north and into the distance. |
| | | There are exclusive homes visible toward the south and southeast, as well as three lakes: Lake Sherwood, Las Virgenes Reservoir, and Westlake. |
| | | Continuing across the ridge, the trail loops back to Los Robles Trail . . . |
| | | . . . leading to Triunfo Canyon Trail . . . |
| | | . . . and returning to Triunfo Park. |