Lang Ranch & Woodridge Easy Hike – Oakbrook Vista Trail

Lang Ranch & Woodridge Easy Hike – Oakbrook Vista Trail
Moderately easy two and a quarter mile round trip hike with an elevation gain/loss of about 600 ft. The trail overlooks the Lang Ranch development as well as the Lang Ranch Open Space. It offers a very nice overview of the entire area.
How to get there: From Avenida de los Arboles, drive south on Westlake Blvd, then left on Lang Ranch Parkway 0.2 miles. Park on the right (south) side of Lang Ranch Parkway.
Map of This Hike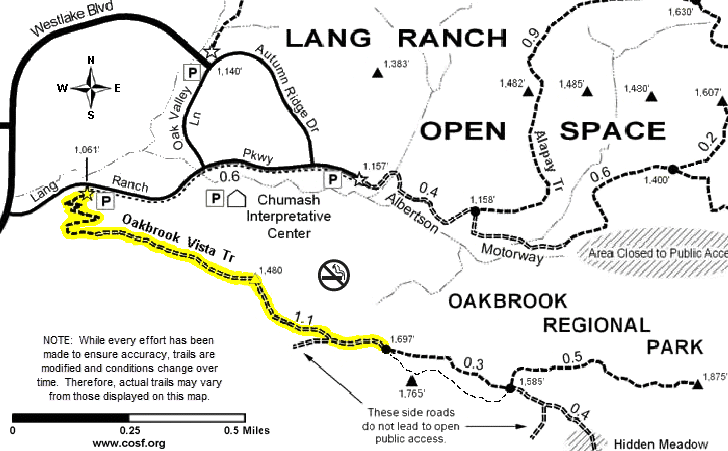 Detailed Hike Description & Photos:
Look for the trailhead as Lang Ranch Parkway curves right.
The path is well cleared, and there is a sign marking the beginning of the trail.
The ascent begins immediately.
Just minutes into the hike, from this trail-side bench, the perspective on the area below has already noticeably changed.
Continuing up the hill and along the ridge, the trail becomes a bit uneven in places, but not difficult to traverse.
At the higher elevations, the views become spectacular. This is looking at the Lang Ranch Open Space Trails to the north-east.
This is looking to the north-west, at the Lang Ranch housing development.
And this is looking south, across the Thousand Oaks area.
At the eastern end of the ridge there is a split in the trail. The steep, rocky path to the right leads up to a great lookout point, but the footing is poor in places. The well maintained trail to the left descends into Hidden Meadow and beyond. However, this is the turn-around point for this 2¼ mile hike.

Note: For a longer (5 mile round trip) version of this hike, see the "Oakbrook Vista & Hidden Meadows Trails" hike description.

Reverse direction and take the same trail back down the hill. Traveling in the opposite direction offers views and perspectives possibly missed on the hike up.