Rules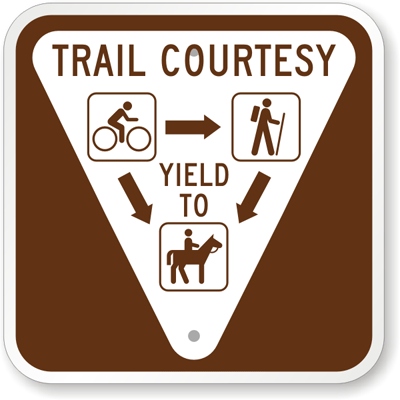 Hikers
Be alert and courteous. Yield to equestrians. Allow bikes and horses to pass.
Bicyclists
Always control your speed. Yield to hikers and equestrians. Use caution around horses: stop completely as you approach equestrians from either direction, calmly announce your presence, and ask if it's okay for you to proceed. Pass slowly when the equestrian has given the okay.
Equestrians
Always control your steed. Be aware of other trail users.
Learn more about trail etiquette from our printable Etiquette Brochure PDF!
It is important for you to help maintain the beauty of this open space area by observing the following rules:
Conejo Open Space trails are open from sunrise to sunset except during inclement weather and emergency conditions when trails may be closed.
Dogs must be restrained by a leash not exceeding six feet in length, and must be under control at all times.
Smoking is strictly prohibited.Alcoholic beverages are prohibited without prior written approval.
Persons under the influence of alcohol or dangerous drugs are not allowed on COSCA property.
Do not endanger visitors, wildlife, or park property.
Stay on designated trails. Avoid trampling vegetation. Never shortcut switchbacks. Avoid using muddy trails. Respect private property adjacent to open space areas.
Law protects plants, animals, and habitat in the Conejo Open Space. Visitors may not pick or collect anything including rocks, plants, and animals.
Use trash bins, or pack litter out.Except for official vehicles and disabled persons on single-rider electric vehicles, motor vehicles are strictly prohibited on trails or in the open space.
No weapons, firearms, bb guns, pellet guns, bows and arrows, or slingshots.
No fires, camping, hunting, or trapping.
Organized events are allowed by permit only.