Trails Education Days

The goal of Trails Education Days is to instill youngsters with an appreciation and sense of stewardship of natural open space. The program provides lessons on open space for Conejo Valley Unified School District 4th grade students every spring.

Trails Education Days Coordinator: Elayne Haggan
ted@cosf.org               805-492-6310

Trails Education Days includes a 30-minute video presentation shown the week prior to a field trip to Wildwood Park. The students experience nature hikes, learn about park ranger careers, and trail safety and courtesy. Animal Actors of Hollywood introduces them to indigenous birds and animals, including a red tail hawk, turkey vulture, opossum, porcupine and squirrel.
Without volunteers, the program could not exist. Many come back year after year, and new volunteers are needed and welcomed.
Because CVUSD schools are closed at least through May 4, Trails Education Days is cancelled for 2020.
Nearly 80 volunteers along with COSCA, MRCA, California and NPS Park Rangers contribute 800 hours to the planning, execution and follow-up for Trails Education Days each year. Grants from Edison International and the City of Thousand Oaks Events Endowment Fund help pay for the program.
The students are invited to enter a letter-writing contest to describe some of the things they learned during their Trails Education Days experience. Two winners from each school and five Grand Prize winners district-wide are chosen to receive cash awards as well as recognition by the Thousand Oaks City Council and the CRPD Board of Directors. View the winners and the grand prize letters on our Writing Contest Winners page.
Volunteer Job Descriptions
Volunteers can choose to help with the activities on any or all of the days the Trails Education Days week. Without the volunteers who give so much to this program, Trails Education Days could not take place. We are especially pleased that so many volunteers come back year after year, ready to give a new crop of Fourth Graders a valuable experience in the Conejo open space.
Hike Leaders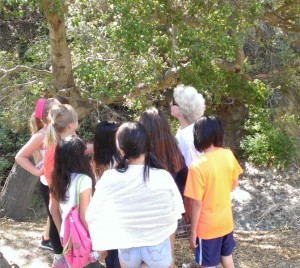 Hike leaders take groups of 12 to 15 fourth graders on 1-hour, 1-mile hikes from the Wildflower Playing Fields to the Nature Center via the Wildwood Canyon Trail.
One teacher or parent volunteer accompanies each group to keep the students focused on their hike leader; the leader talks to the group about indigenous plant and animal life. At intervals along the way, plants are tagged with multiple choice questions. Vast knowledge about local plants and animals is not a requirement. Volunteers range from experienced naturalists, botanists, and wildlife biologists to people who value natural open space and wish to contribute to our program. With approximately 1,200 students attending over a 5 day period, we need as many as 12 – 15 people per day to lead 1 or 2 hikes each.
Volunteers who have not participated in this program previously are asked to attend a training session the week before Trails Education Days. These training sessions are conducted by professional naturalists and include a rehearsal hike to the Nature Center on Wildwood Canyon Trail.
General Coordinators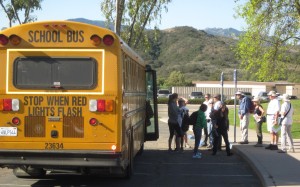 Several people are needed each day to help keep the program running smoothly and on schedule. These volunteers unload the school groups from their buses, assign the groups to their hike leaders, usher the groups from one workshop to the next, pass out water bottles as the students leave the canyon, lead groups on the 20 minute hike back to their buses, set up the Nature Center for the volunteers' lunches, and do whatever else comes up. Interested people might choose to volunteer for one morning, a day or two, or for the entire week.
Trail Safety & Courtesy Workshop Participants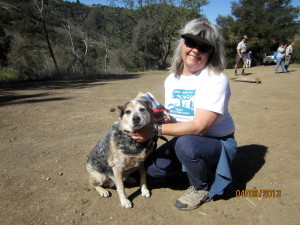 One workshop involves a hiker, bicyclist, equestrian, and dog walker. These trail users act out a scenario for the students that illustrates right and wrong ways to behave in the open space. Volunteers typically participate in 5 or 6 half-hour workshops each day, over a total of 4 hours, and  volunteer for one or more days of the program.
All volunteers are treated to snacks and lunch, courtesy of COSF. A benefit to volunteers is that they meet many other people who share their interests and commitment to open space.
See the current Volunteer Manual for a more detailed description of the volunteer programs. Trails Education Days is described starting on page 12.
If you would like to help, please fill out a Volunteer Application, or contact Elayne Haggan at 805-492-6310.
The Conejo Open Space Foundation extends a sincere THANK YOU to our Trails Education Days sponsors, supporters, staff & volunteers:
City of Thousand Oaks Community Events Endowment Fund
Conejo Open Space Conservation Agency
Conejo Recreation and Park District
Conejo Valley Unified School District
Animal Actors of Hollywood
Conejo Group Sierra Club
Mountains Recreation and Conservation Authority
Edison International
Thank you! We look forward to working with you.