The COSCA system includes more than151 miles of trails, and we're making that number larger every year! During the Fall and Spring Trail Work Days, volunteers come out to help build new trails for everyone to enjoy. Sometimes we instead go out to repair trails that were damaged during severe winter weather. Groups including local businesses volunteer their time to help the trails as a way to give back to the community.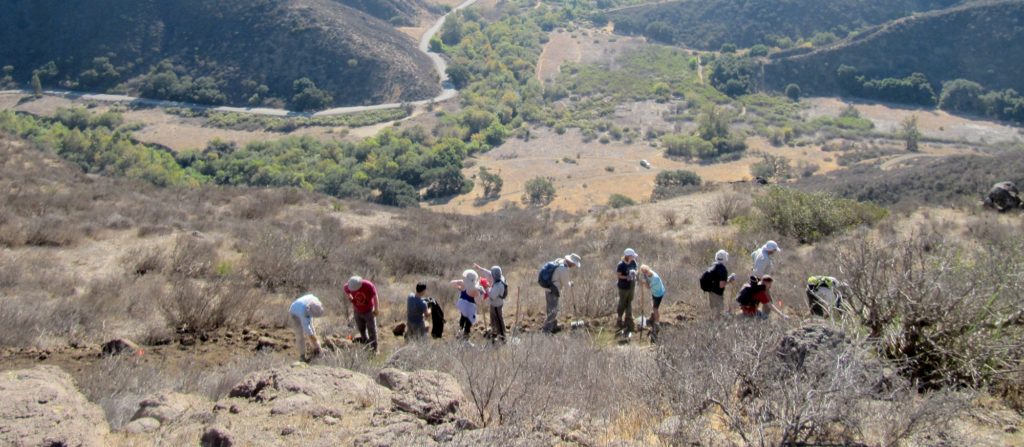 Upcoming Annual Fall Trail Work Day: Saturday October 20th, 7:30 am

We will be returning to the Westlake Village Community Park and YMCA to continue to build a connector trail up to the Saddle Pass Trail. We expect to finish this trail and start on a new one that will descend from the Saddle Pass Trail to the east side of the WLV Community Park.
This is our largest trail work event of the year and expect to get many trail enthusiasts to join us. We hope that you'll come along and help us add even more miles to our trail system! No experience is required; we'll provide tools and instructions so you can use them safely and effectively. Everybody works at their own pace.
Schedule at a glance
7:30 am – Meet at WLV Community Park, 31107 Thousand Oaks Boulevard (map). Sign in at the registration desk at the west end of the parking lot and pick up a snack bag. Form crews of about 10 and select hand tools.
8:00 am – Trail construction starts after crews listen to the safety talk and learn how to use their tools safely and effectively.
12:00 noon – Barbecue lunch and prize give-away to thank the volunteers for their help.
Things to bring with you
Lots of water to drink. A CamelBak or other hydration pack with pockets for holding snacks, gloves, extra sunblock, etc, is ideal
Snacks
Sunblock
Sunglasses
Boots or rugged shoes with good tread. No sandals or flip-flops please!
Long-sleeved shirt, long legged pants, hat with wide brim (to protect you from the sun and little scratches)
Work gloves, preferably with a non-slip grip
We will provide all the tools so there is no need to bring your own.
Volunteers follow the instructions of the Rangers and other crew leaders at all times.
See below for photos and descriptions of past volunteer events on this trail.  We hope to see you there!
Here is the official flyer of this event!
Pepperdine Step Forward Volunteer Day, September 8, 2018
Seventeen Pepperdine University students, part of their annual Step Forward Day of volunteerism, were bused to the new Westlake Village YMCA and Community Park to help with the construction of the connector trail up to the Saddle Pass Trail. The volunteers, all young women, hiked the half mile to the work site and got to work to extend the partially completed trail. Unfortunately, this was one of the hottest days of the year and there was no shade on the trail, so we headed back to the parking area early to wait in the shade for the bus to pick them up. The temperature was 99 degrees in the parking area when we left. Despite the shortened work day, the students said they learned a lot about what's involved in constructing trails, and they did a great job! Thanks to the Pepperdine students for helping out! Here are some photos for their work.
Spring Trail Work Day, Saturday June 16, 2018.
About 70 volunteers helped extend by 0.4 miles the new trail from the Westlake Village Community Park and YMCA to the Saddle Pass Trail. This section was much more challenging to build than the lower section we built the previous month because the cross-slope was much steeper, requiring much more dirt to be dug out.
You can view more photos of this work day, and the full trailwork report.
BonusTrail Work Day, Saturday May 26, 2018
Starting on the new trail from the Westlake YMCA to Saddle Pass. 37 volunteers completed 0.4 miles of the 1.3 mile-long trail.
View the complete Photo Gallery and the Trailwork report.
2017 Fall Trail Work Day and 40th Anniversary Celebration – Sapwi Trails
2017 Spring Trail Work Day – Conejo Canyons
2016 Fall Trail Work Day – Conejo Canyons