The Conejo Open Space includes over 151 miles of trails, and we're making that number larger every year! During the Fall and Spring Trail Work Days, volunteers come out to help build new trails for everyone to enjoy. Sometimes we instead go out to repair trails that were damaged during severe winter weather. As well, other groups such as local businesses volunteer their time to help the trails as a way to give back to the community.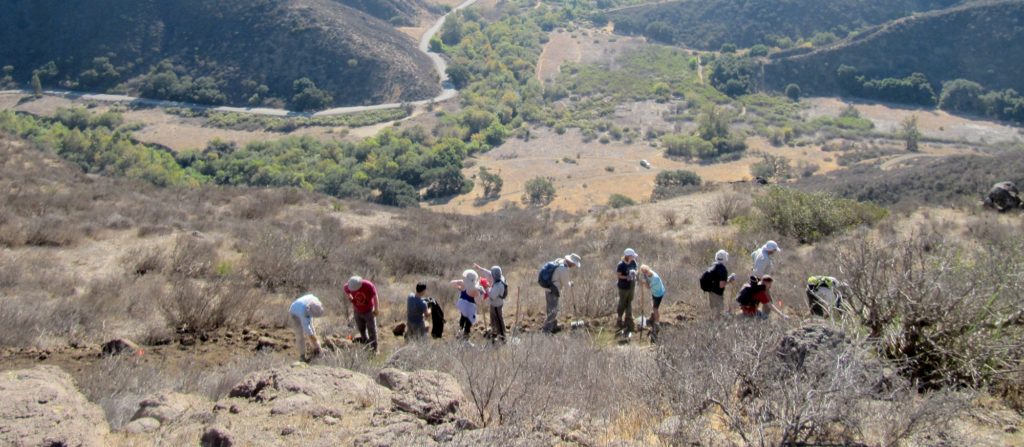 Upcoming Trail Work Days
The next trail work day will be the Annual Fall Trail Work Day, to be held in October 2018. Details will be posted as they become available. Check back in September!
Spring Trail Work Day, Saturday June 16, 2018.
About 70 volunteers helped extend by 0.4 miles the new trail from the Westlake Village Community Park and YMCA to the Saddle Pass Trail. This section was much more challenging to build than the lower section we built the previous month because the cross-slope was much steeper, requiring much more dirt to be dug out.
You can view more photos of this work day, and the full trailwork report.
BonusTrail Work Day, Saturday May 26, 2018
Starting on the new trail from the Westlake YMCA to Saddle Pass. 37 volunteers completed 0.4 miles of the 1.3 mile-long trail.
View the complete Photo Gallery and the Trailwork report.
2017 Fall Trail Work Day and 40th Anniversary Celebration – Sapwi Trails
2017 Spring Trail Work Day – Conejo Canyons
2016 Fall Trail Work Day – Conejo Canyons