Our Story

The Conejo Open Space Foundation was established in 1995 as a 501(c)(3) (nonprofit corporation) for public and charitable purposes.
The primary purposes of COSF are to raise funds to promote and maintain the open space and multi-use trails of Conejo Valley, and to educate the citizens, especially the children, as to their roles as custodians and protectors of the open space and the environment.
To further that goal, we raise funds to support a wide range of open space programs that are sponsored by the Conejo Open Space Conservation Agency, COSCA. These volunteer programs are listed below.
COSF is entirely self-supporting and is funded through individual and corporate donations and grants. Funds received by COSF are highly leveraged through the extensive use of unpaid community volunteers and other in-kind donations. Annual financial reports are available upon request.
Members of the COSF Board of Directors donate their time and receive no monetary compensation for their services. Donations to the Conejo Open Space Foundation are tax deductible to the extent permitted by law. To make a donation, visit our Giving page.
If you would like to learn more about our recent activities, sign up for our quarterly newsletter and other occasional email messages.
Some of the programs, projects, and events supported by the Foundation are listed below:
Education
A significant goal for the Conejo Open Space Foundation (COSF) is educating the public about the Conejo Valley's extensive trail system, and about the plants and animals living in the Conejo Open Space. Educational projects include:
Trails Education Days
The Conejo Open Space Foundation supports the Conejo Open Space Trails Advisory Committee (COSTAC) in coordinating an annual environmental education program for Conejo Valley fourth graders. Nearly 40,000 students have taken part in Trails Education Days since its inception in 1992. For more information, see the Trails Education Days page.
Community Outreach
Foundation volunteers periodically set up information tables at local trail-heads and at corporate Earth Day and health fair events to provide information about the extensive open space in the Conejo Valley.
COSF Website
Our website is a resource designed to educate and inform our community about the Conejo Open Space. It provides education and information about the Conejo Open Space, including trail maps, open space photos and videos, descriptions of plant and animal life, a listing of group outings, favorite hike routes, volunteer opportunities, contact information, and much, much more.
Conejo Open Space Trail Maps
The Foundation has long been involved with the development and distribution of trail maps for the most heavily used COSCA areas. Thousands of these maps help trail users enjoy our open space and increase safety and awareness of the Conejo Open Space trail system.
Open Space Speaker Series
A few times a year we invite the public to listen to a presentation by a local expert on some aspect of the open space. The presentation may be on a topic around geology, history, wildlife, culture and more. Learn more on our Speaker Series webpage.
Open Space News
The Foundation regularly publishes and distributes information about the Conejo Open Space, including a history of the Conejo Open Space, a quarterly newsletter distributed via email, schedules of outings and events, environmental education material, and volunteer opportunities. We also post items of immediate interest to social media. Links to these can be found at the bottom of every page here.
Volunteer Programs
The Conejo Open Space Foundation supports and promotes many volunteer programs. In the past year, volunteers donated nearly 5,000 hours to open space projects and programs. Working with other organizations and the residents of the greater Conejo Valley, the Foundation endeavors to ensure that the trails, canyons, and ridge lines will be preserved for future generations. Volunteer programs include the following:
Trails Education Days
Scores of volunteers come together to help make this annual educational event for Conejo Valley Unified School District fourth graders a significant learning experience. A student's day in the open space begins with a volunteer led nature hike, followed by introductions to indigenous animal species, trail safety and courtesy, and presentations by Park Rangers. For more information, see the Trails Education Days page.
Trail Work
The Conejo Open Space Conservation Agency (COSCA) sponsors annual trail building events for which the foundation provides financial and volunteer support. Trailwork events include Spring Trail Work Day in March and the annual COSCA Trail Work Day in the fall. For more information, visit our Trail Work page.
Adopt-A-Trail
The Adopt-A-Trail program is designed to encourage local participation in the on-going maintenance and building of public trails and related improvements. Through the "adoption" of specific trails, or portions of trails, an individual, group, or organization agrees to be responsible for the maintenance and/or development of a trail or a trail segment located within the Conejo Open Space system. For more information, see the Adopt-A-Trail page.
Trail Ambassadors (Formerly Trail Patrol)
Trail Ambassadors are volunteer hikers, bicyclists, and equestrians, whose purpose is to provide additional information and safety for those who use the COSCA trails. They wear uniforms and ID badges, they are certified through a formal training program, and they are equipped with communication devices and first aid packs. For more information, see the Trail Ambassadors page.
Trail Watch
Trail Watch volunteers are regular trail-users who report their observations to the Park Rangers after their outings in the Conejo Open Space. Trail Watch reports include numbers of other trail-users encountered, wildlife sightings, rules violations, and anything unusual. In addition, volunteers may provide trail information to other visitors, supply trail map boxes, and pick up trash/debris along the trails. For more information, see the Trail Watch page.
Resource Stewardship
This program offers volunteers the opportunity to participate in a wide variety of natural resource-related open space stewardship, management, and education
projects such as non-native species control, invasive plant eradication, or the restoration of sensitive resource areas within COSCA's open space system. For more information, see the Resource Stewardship page.
Open Space Projects
Other projects supported by the Conejo Open Space Foundation include:
Stream Cleanup
Volunteer work parties periodically remove trash and non-native plants from our waterways, thus improving the habitat.
Accomplishments
We are proud of our accomplishments towards people's enjoyment of our open spaces.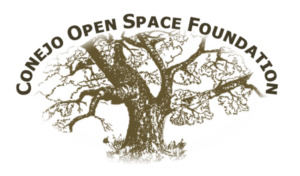 Here is the logo we adopted when we formed – the new logo as of June 2019 is shown at the top of this page.