Easy Hike Sunset Hills Trail
Fairly easy 2½ mile round trip with a total elevation gain/loss of about 600 ft. This hike through Sunset Hills Open Space to a nearby hilltop provides wonderful views of the surrounding area.
How to get there: From the 23 Freeway, drive east on Sunset Hills Blvd., then north on Erbes Rd 0.7 mile to the trailhead on the right. Park in the dirt lot.
Map of This Hike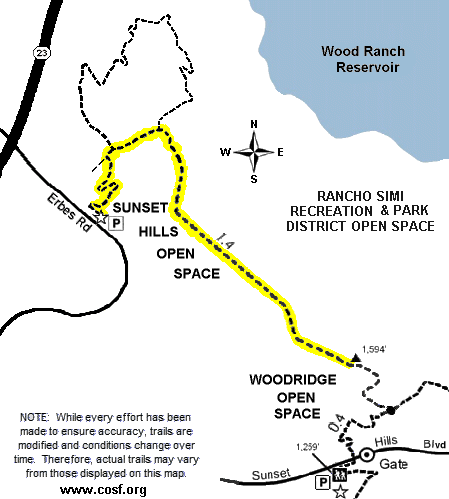 Detailed Hike Description & Photos:
| | | |
| --- | --- | --- |
| | | Think you don't have time for a hike? Consider this one! It's only about 2 1/2 miles (round trip) with an elevation gain/loss of about 600 ft. The trail is a pleasant, well cleared path through the low brush, with the the trailhead conveniently located in the Sunset Hills area. Although this trail continues on through other open space areas and into the San Fernando Valley, the hike described here is just to a nearby high point and back. |
| | | Along the way, scenic Wood Ranch Reservoir is nearby on the left. |
| | | And, from the high point, there are 360 degree views of the entire surrounding area. This is looking back toward Moorpark and the Tierra Rejada Valley |
| | | This is looking out across Simi Valley. |
| | | To the southwest is Thousand Oaks, with the Santa Monica Mountains in the distance. |
| | | And, on a clear day, to the west you can see across the Oxnard Plain to the Pacific coast, and to Santa Cruz Island in the extreme distance. |
| | | For the return trip, reverse direction and follow the same trail back to the Erbes Road trailhead and parking lot. |