Announcing the COSCA Spring Trail Work Day, Saturday March 21, 2020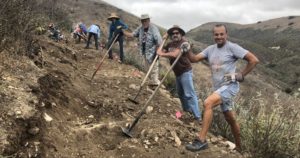 This year volunteers will be meeting at the inner parking lot at Wildwood Park to help repair damage to the Santa Rosa Trail.
7:30 am: Meet at the inner (lower) lot for check-in at the registration table, complete a release form and pick up some snacks.
8:00 am: Trailwork begins with and orientation and safety instructions, then crew leaders direct teams to the work sites.
12:00 noon: Volunteers treated to lunch!
To help us plan for this event, please sign up in advance with our online form.