Where in the Conejo Contest for April 1, 2022 (No fooling!)

You could win $25 if you can identify what is shown in the photo! The correct answer is provided below along with 3 that are not. To be entered in the drawing to win, you must select the correct identification.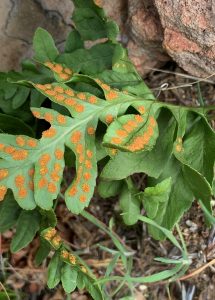 From the top side, this native California polypody fern looks normal, but when you turn a leaf over, you see this. You recognize it because you know it's:
Clusters of oleander aphids feeding
A type of cheese fungus that attacks native ferns
Cases that contain the fern's reproductive spores
Eggs laid by the California hairstreak butterfly
Good luck!
We hope that our "Where in the Conejo" contest inspires you to find new places and sights in our beautiful open space areas that you wouldn't have otherwise known about. You could win a $25 gift certificate if you make a correct entry by April 8, 2022, one week after the contest opens!
To enter the contest, and for full details on the rules, see our Where in the Conejo page.