Christine Elowitt is the winner of the July 'Where in the Conejo' photo contest!

The July 1 Where in the Conejo contest photo was of the Santa Rosa Trail in Wildwood Park. Of the correct entrants, Christine was selected at random as the winner of a $25 gift certificate. Congratulations Christine and thanks to all who entered the contest!
The Santa Rosa Trail is in the northern part of Wildwood, crossing the northern side of Mount Clef Ridge and overlooking the Santa Rosa Valley. It connects to the Lower Santa Rosa Trail by way of the Shooting Star Trail that was constructed during Trail Work Days in 2010. The Santa Rosa Trail also connects to Wildwood Avenue through a short spur, and to the Wildwood Mesa Trail at the south end.
The entire trail is a testament to the volcanic history of the Conejo Valley. Basalt rock outcroppings can be seen in many places along the hillside, and there are many volcanic basalt rocks, often 'bubbly,' embedded in the trail itself.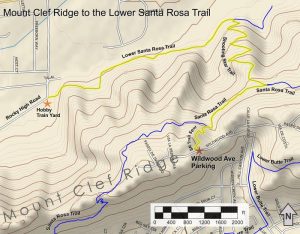 This month's route to experience the trail starts at Wildwood Avenue, travels along a short portion of the Santa Rosa Trail, drops down to the Lower Santa Rosa Trail by way of the Shooting Star Trail, ending at a very interesting neighborhood feature, a hobby train yard. To help you find your way there, we have a new 2-page PDF document that describes an easy 3-mile route that includes a loop through the middle of Rancho Potrero.
All our new trail guides are collected on this single web page to make it easier to find new trails to explore at whatever level of difficulty you like.