Congratulations Jimmy Chow for winning the November 'Where in the Conejo' photo contest!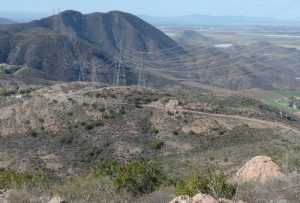 The November 1 Where in the Conejo contest photo was of the Powerline Trail. Of the correct entrants, Jimmy was selected at random as the winner of a $25 gift certificate. Congratulations and thanks to all who entered the contest!
The Powerline Trail is an Edison Road that starts by switchbacking up Conejo Mountain before heading down the crest into a valley with an abundant display of volcanic rocks, a testament to the geologic history of the Conejo Valley. It ends in the north at a locked gate next to the 101 Freeway. There is a spot not far from the highest point where the surrounding ridges block out all traffic sounds so all you can hear are birds, insects and the soft buzz of the power lines above.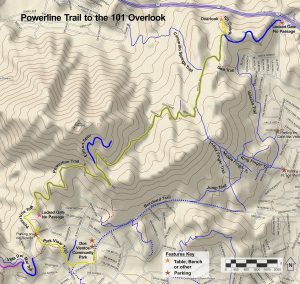 This month's route to explore the trail starts at the Dos Vientos Community Park and continues north to an overlook of the 101 Freeway, a distance of 8.8 miles out-and-back with about 1850′ of climbing. To help you find your way there, we have a new 2-page PDF document that describes this route.
All our new trail guides are collected on this single web page to make it easier to find new trails to explore at whatever level of difficulty you like.