David Filgas is the winner of our December 'Where in the Conejo' contest!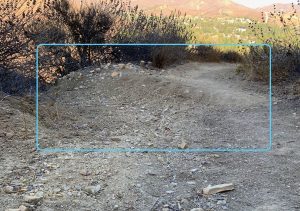 December's "Where in the Conejo" contest photo featured a manmade drainage area on the Bowfield Trail (answer to the bonus question, which only one person got right). Of the correct entrants, David Filgas was selected at random as the winner of a $25 gift certificate. Congratulations, David, and thanks to all who entered! (Of which, 100% got it right!)
All of you recognized the ditch for what it is: Trail workers' efforts to steer water off the trail before it causes ruts down the middle via erosion. We are very glad that none of you think it marks an emergency slide down the side of the hill or a speed bump. If a drain's lip is so high that it sends bikers airborne or trips hikers, it wasn't constructed right.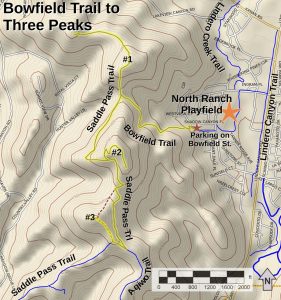 This month's route to explore the Bowfield Trail includes part of the Saddle Pass Trail and a visit to three nearby peaks over 4.6 miles with about 950′ of climbing. Each peak has a different outstanding view of the area. To help you find your way there, we have a new 2-page PDF document that describes the route.
All our new trail guides are collected on this single web page to make it easier to find new trails to explore at whatever level of difficulty you like.