Dec 12 Where in the Conejo Contest photo was of the Santa Rosa Trail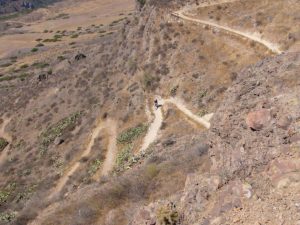 The photo in the December 12th issue of the Thousand Oaks Acorn, shown here, was of the Santa Rosa Trail where it drops from Mount Clef Ridge down onto Wildwood Mesa. Congratulations to Susan Cooley who provided the correct answer and was selected as the winner. Thanks to all who responded!
Learn more about the contest on our Where in the Conejo page.
North of these switchbacks, the Santa Rosa Trail hugs the northwest flank of Mount Clef Ridge and provides great views into the Santa Rosa Valley! As well as from Wildwood, it can be accessed from a short spur trail with a trailhead on Wildwood Avenue, and from the Lower Santa Rosa Trail via the Shooting Star Trail. Like Wildwood Park, the rocks here are volcanic in origin and there are lots of them to be seen in some places!
You can see the Santa Rosa Trail on the Wildwood Trail map.