Feb 14 Where in the Conejo Contest photo was of Wildwood Canyon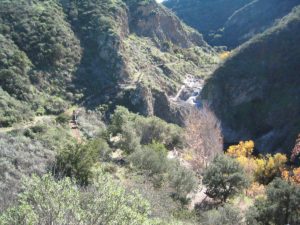 The photo from our February 14th contest, shown here, was of Wildwood Canyon in Wildwood Park. Congratulations to Robert Angstadt who provided the correct answer and was selected as the winner. Thanks to all who responded!
Learn more about the contest on our Where in the Conejo page.
The photo was taken from the Tepee Trail, looking east, and shows the Wildwood Canyon trail above Paradise Falls. The falls are partly obscured by the bare branches of a tree.
Wildwood Canyon was acquired from the Janss Corporation in 1967 and in the mesa above was added in 1987. There are nine trails that lead from the mesa into the Canyon, and, except for the Lizard Rock Trail, they are all less than 1 mile long. You can compare the steepness and lengths of these trails on this profile chart.
You can learn more about Wildwood Canyon, including hiking routes and trail maps, on our Wildwood page.