Giving Tuesday is today, November 30th. Please know your gift benefits our open space.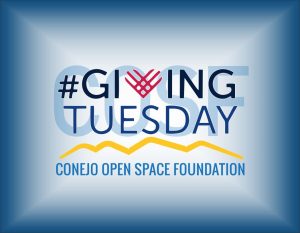 Founded in 2012, Giving Tuesday—observed on the Tuesday after Thanksgiving and the 4 days that follow—celebrates the spirit of philanthropy and charity. As in the past, we invite you to help support your open spaces by making a gift of any size to the Conejo Open Space Foundation today.
Like other community nonprofits, COSF welcomes the opportunity to appeal to the best in people to put donations collected on Giving Tuesday to work for the benefit of our open spaces. Because we are an all-volunteer 501(c)(3) organization, no money goes to salaries, but instead returns to benefit the Conejo Valley community.
We have just launched our 2021 fundraising campaign and while you think about donating to COSF this year, please consider some of the important projects that your past donations helped fund:
College scholarships, starting in 2021 COSF awarded $1,000 annually recurring scholarships to two local high school graduated committed to majoring in environmental science and resource management studies.
Save LACougars Campaign – Gave an additional $11,840 donation in 2021 to the National Wildlife Federation for the construction of the wildlife corridor bridge over the 101 freeway at Liberty Canyon, of which over $9,000 was matched by the Annenberg Foundation.
Bike bells – Provided $12,000 to the Conejo Open Space Conservation Agency (COSCA) for the purchase of bike bells placed in boxes at major trailheads, most recently $6000 in 2020.
Speaker Series – Funded COSF's quarterly Speaker Series. In 2021, speakers presented on the wildlife corridor bridge, changes in bird populations, native plants, and the upcoming talk, "Wildlife in Our Neighborhoods" on December 16th (online registration is open)
Trails Education Days – Cancelled for the second year due to COVID. In its place, COSF produced a video on wildlife in the Conejo Valley in conjunction with Animals Actors of Hollywood for CVUSD's 4th grade classes.
Conejo Open Space Challenge prizes – COSF donated prizes purchased from local restaurants and retailers for winners of the popular trails Challenge.
Where in the Conejo contest – gift cards for winners of COSF's ongoing location identification contest.
Please join the millions of people giving to their favorite charities on Giving Tuesday by donating at http://cosf.org/donate/! Thanks!