It's not too late to help your local open space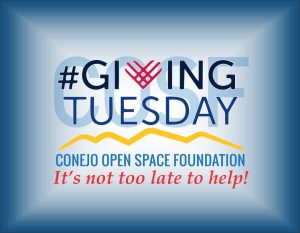 Founded in 2012, Giving Tuesday—observed on the Tuesday after Thanksgiving and the 4 days that follow—celebrates the spirit of philanthropy and charity. We invite you to help support your open spaces by making a gift of any size to the Conejo Open Space Foundation (COSF) today.
COSF is unique because we are the only local non-profit organization that raises funds strictly for open space projects and programs.
As an example of our activities, everyone across the Conejo Valley can join the fun and enhance their knowledge of our open spaces and our human connections to nature with our popular and free Speaker Series.
In celebration of Giving Tuesday, please help us continue to keep our open spaces beautiful and accessible by donating now. It's easy to get started to do your part for the Conejo Valley.