Nov 14 Where in the Conejo Contest photo was of the Whole Access Trail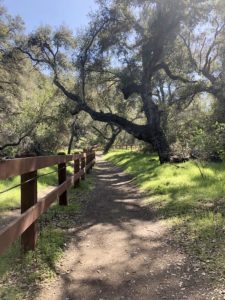 The photo of the November 14th issue of the Thousand Oaks Acorn, shown here, was of the Whole Access Trail, part of the Oak Canyon Loop Trail. Congratulations to Jill Pechter who provided the correct answer and was selected as the winner. Thanks to all who responded!
Learn more about the contest on our Where in the Conejo page.
The trail is accessed from Greenmeadow Ave and connects to the Los Robles Trail. The western half of the loop gets the name Whole Access Trail because the tread is smooth and hard enough for wheelchairs and strollers, and a fence alongside includes a cable to guide the blind with interpretive signs in braille. You can follow our easy hike of the Oak Creek Canyon Loop.
The eastern half of the trail is very popular with mountain bikers and has the nicknames of "The Whoops" and "Mr. Toad's Wild Ride" (or simply "Toad").