Oct 17 Where in the Conejo Contest photo was of Elliott Peak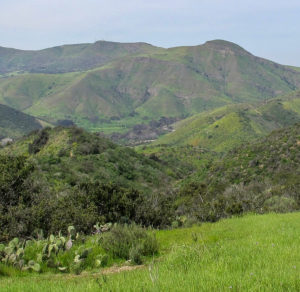 The photo of the October 17th issue of the Thousand Oaks Acorn, shown here, was of Elliott Peak, aka Elliott Mtn., on the Western Plateau. Congratulations to Todd Strasburger who provided the correct answer and was selected as the winner. Thanks to all who responded!
Learn more about the contest on our Where in the Conejo page.
Elliott Mountain is accessible from the Elliot Mtn. Trail in the Western Plateau section of the Conejo Canyons Open Space (see map). It begins at the north part of the Outlaw Loop which itself is accessed from the Western Plateau Trail. You can follow our moderate-level hike up to Elliott Mountain (previously called Elliott Peak).