The great volunteer turnout made for a successful 2023 Fall Trail Work Day on Saturday – Summary and photo gallery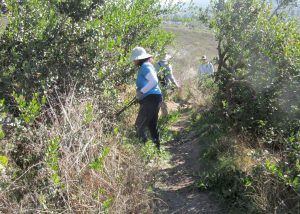 Well over 100 people helped fix up three trails in Wildwood Park on October 21, with 89 volunteers plus COSCA rangers and several members of the Conejo Youth Conservation Corps (CYCC). Participants split into several group and spread out to fix ruts, cut back encroaching vegetation, including cactus, clean out old drains and even build some new drains!
Three groups hiked up the Santa Rosa Trail to work on different sections. Two groups hiked over to the Stagecoach Bluff Trail to fix ruts and to define the edge of the trail with rocks. Another group headed down the Moonridge Trail to fix ruts and cut back overgrowing brush.
Everyone converged back to the staging area to enjoy a delicious taco meal at noon, and a few lucky people won gift cards to some local restaurants.
Here's a gallery of photos of some of the volunteers at work.
We would like to send a special thanks out to the Santa Monica Mountains Trails Council and the Concerned Off-Road Bicyclists Association (CORBA) who provided crew leaders to help the COSCA rangers.