Where in the Conejo Contest for December 1, 2022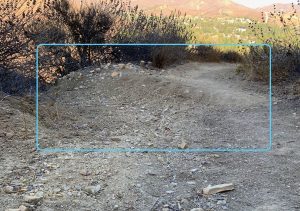 You could win $25 if you can you identify the phenomenon shown in the photo! The correct answer is provided below along with 3 that are not. To be entered in the drawing to win, you must select the right one.
When you encounter a dip and a rise in the trail such as the one marked in the photo, you know that it's:
An indication that there's an emergency exit slide down the side of the trail.
A speed bump intended to remind all users to moderate their downhill pace.
A drain built to minimize erosion from rainfall.
A collapsed tunnel system made by ground squirrels or gophers.
Good luck! We hope that our "Where in the Conejo" contest inspires you to learn more about our beautiful open spaces. You could win a $25 gift certificate if you make a correct entry by December 8, 2022! (Extra credit if you can guess the name of the trail in this image.)
To enter the contest, and for full details on the rules and time that it's open, see our Where in the Conejo page.