Where in the Conejo contest for February 14 and the January 31st winner

We hope that our "Where in the Conejo" contest inspires open space enthusiasts like you to find new places in our beautiful open space areas that you wouldn't have otherwise known about. You could win a $25 gift certificate if you make a correct entry by Feb 21st, one week after this contest opens!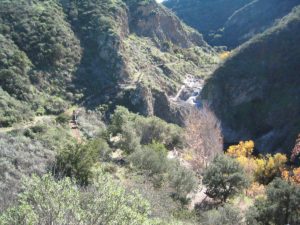 Can you identify the trail location shown in the photo? It's a popular trail that many have hiked in pursuit of one of our area's landmark canyon features. The open space area it's in has a diverse trail system rich in historic resources, prominent geologic formations and is home to a wide variety of plant and animal life. (Photo credit- Steve Clark)
To enter the contest, and for full details on the rules and time that it's open, see our Where in the Conejo page.
The January 31st contest photo was of a portion Hawk Canyon with its trail above the stream. Congratulations to Ricardo Zucca who provided the correct answer and was selected as the winner. Thanks to all who responded. Good luck this week!
The Hawk Canyon Trail is in the Conejo Canyons Open Space area. The section of the trail shown in the photo was added in 2012 during the Annual Trail Work Day in October. Then we had to return to restore the trail during the Spring Trail Work Day in March 2019 because it had been inundated with mud by heavy rain that followed the November 2018 Hill Fire.