Where in the Conejo Contest for October 1, 2022

You could win $25 if you can you identify the phenomenon shown in the photo! The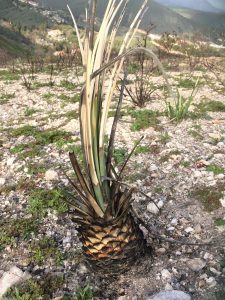 correct answer is provided below along with 3 that are not. To be entered in the drawing to win, you must select the right one.
When you see this alongside the trail, you can be pretty certain it's evidence that:
A native chaparral yucca has become infected with black mold.
Someone had a stealth luau in the open space.

 

A wildfire burned through the area.
An invasive Mexican fan palm is getting established.
Good luck! We hope that our "Where in the Conejo" contest inspires you to find new places and sights in our beautiful open space areas that you wouldn't have otherwise known about. You could win a $25 gift certificate if you make a correct entry by October 8, 2022, one week after this contest opens!
To enter the contest, and for full details on the rules and time that it's open, see our Where in the Conejo page.