Sept 23, Conejo trail restoration for National public Lands Day!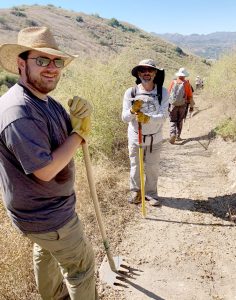 The second monthly Conejo Open Space trail work day is being held on the morning of Saturday September 23, in honor of National Public Lands Day. The work will be on the trails of Rancho Potrero, clearing weeds that choke the trails and fixing ruts. The monthly work days are organized by the Conejo Open Space Conservation Agency (COSCA), with support from COSF.
In order to participate, you will need to sign up online. Details of where and when to meet will be provided when you register. The work will be done under the guidance of COSCA rangers.
The photo shows some volunteers at the August trail work day on the Wishbone Trail.

As always, prepare and dress appropriately for trail work.
Wear solid boots with good lug soles to keep your grip on a possibly slippery trail. Absolutely no sandals or flip-flops!
Bring lots of water! It can be hot and there may not be any shade
Bring a hat, work gloves and sunglasses or other eye protection
Long-sleeved shirts and long pants are strongly recommended
Use sunblock on exposed skin
Leave your 4-legged friends at home
No experience is necessary. COSCA rangers and other experienced trail crew leaders will provide hand tools and instruction on how to use them safely and effectively.
If you would like to be notified by email of future trail work days, please fill in this form.